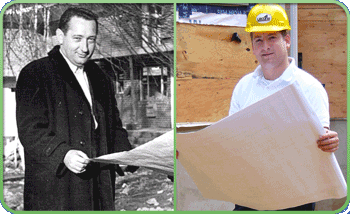 Laguna Siding & Roofing is a family-owned, full-service exterior contracting company, serving the tri-state area and beyond. We are proud to be part of a family that has served the public in the building industry for three generations, with quality, service, and dedication.
It started in 1955, when Simon Lench traveled to Chicago to work for six months on high-rise building construction. It was then that he realized his calling and passion, which was building the best homes that he could for the young families in his area, and selling them at prices that they could afford. It was a time of expansion, a time of people working hard for their dreams, and through hard work and perseverance, Simon became known to all those with whom he did business as the man you could trust to get the job done right. His appearance on the job site would bring lots of friendly hellos and handshakes, from customers and workers alike.
Fifty-three years later we continue his passion for the construction trade through Laguna Siding & Roofing. Not just another exterior contractor, Laguna Siding & Roofing conducts its business according to our father's principles. Simon believed that a contractor's duty is to provide his customers the best service possible at a price that he himself would want to be charged, and to always be a true friend to his customers. It is this friendly, customer-first attitude that carries over to our operations today. Both builders and homeowners alike shoulder an ever-growing burden of decisions about styles, colors, specs, and features. At Laguna, we make the difference by helping our clients navigate through the ever-changing maze of choices available, to best meet their design, lifestyle, and budget needs. Our scope of business has grown beyond residential homes, to include everything from condominiums and townhouses to healthcare facilities and warehouses. One thing that has not changed over the three generations, however, is our attitude and our commitment to you, the customer.
Laguna Siding & Roofing – three generations of being your friend in the business. Our father would be proud!