Commercial, Community, & Townhouse Services
Laguna Siding & Roofing has a proven track record of providing its commercial clients with expert exterior services. The services available for our commercial customers include:
Roofing, including both low-slope and steep-slope roofs.
Vinyl Siding, using the best materials available, in attractive new styles and profiles designed to accent your building's architectural design.
Windows, including both replacement and new construction.
Gutter installation, alterations, and maintenance. LeafSlugger gutter protection products installed by Laguna offer maintenance-free rainwater solutions.
Teaming with Laguna Siding & Roofing on your next project will give you the ability to focus on your management duties and leave the contracting work to a trusted and experienced professional. Laguna will cover your exterior needs from start to finish, making sure to stay on schedule and on budget. Special attention is paid to the unique work site conditions that exist within community and townhouse projects. These special areas of focus include: daily clean-ups; minimal disturbance for residents; code compliance; cooperation with concerns of local law enforcement; cooperation with community association regulations. Above all, all work is done in a diligent manner with the emphasis on quick and efficient completion. Laguna Siding & Roofing has earned the trust of their customers by always being personable and professional, helping the customer understand the product being used and delivering the best value. We have completed projects as far north as Springfield, MA , as far south as Virginian Beach, VA, and as far west as Eldorado, KS. Why did these customers choose Laguna? The reason is simple! Our commercial clients are happy to share their good experiences with other owners and managers. Satisfied customers include:
Apartments & Townhouses
Bergen Circle Townhouses, Springfield, MA
Orchard View Apartments, Morrisville, PA
Hillcrest Village, Clark, NJ
Raritan Crossing, New Brunswick, NJ
Silverwood Apartments, El Dorado, KS
Bridge Creek Apartments, Virginia Beach, VA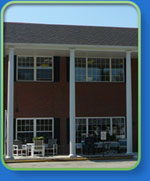 Healthcare Facilities
AristaCare at Meadow Springs, Plymouth Meeting, PA
AristaCare at Alameda Center, Perth Amboy, NJ
Royal Suites Health Care & Rehabilitation, Galloway Township, NJ
Atlantic Coast Rehabilitation & Health Care Center, Lakewood, NJ
New Vanderbilt Rehabilitation & Care Center, Staten Island, NY
Leisure Chateau Rehabilitation & Care Center, Lakewood, NJ