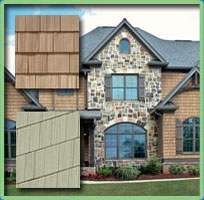 No other material in your home acts in as many capacities as does your exterior siding. The siding waterproofs, insulates, channels water away from your house, allows air circulation, and self-adjusts to fit the climate. Siding's most obvious impact, of course, is the visual one. The range of colors, styles, and textures available is virtually endless, providing the consumer with a wide variety of architectural design possibilities.
Today's vinyl siding is a complex product specially engineered to protect your building's sheathing. Vinyl siding is manufactured with a tough, rigid, impact-proof exterior that is long-lasting and colored to perfection. Proprietary blends of the base raw materials are combined with impact modifiers and other premium ingredients to form the base for today's versatile, long-lasting, high quality siding. At Laguna we use only the best products available on the market. We select siding brands that have the ability to retain their true color and that will resist UV fading effects. Vinyl siding has the capacity to provide your home or building with years of enduring, virtually maintenance-free beauty. Let our design and installation experts help you use vinyl to create the look of your dream home.

The Vinyl Siding Institute, or VSI, is the national trade association for manufacturers of vinyl siding products. VSI offers a rigid certification program for professional contractors that establishes them as knowledgeable and experienced in the installation of vinyl siding. VSI has set the national standard for siding installation, and one should not choose a vinyl siding installer without being assured of VSI certification. CertainTeed, a popular manufacturer of home exterior products, has established an additional standard of excellence for siding contractors - the CertainTeed 5-Star Contractor Program. To be certified as a 5-Star Master Craftsman, installers must complete coursework and testing in two areas of siding installation. Those who achieve the Master Craftsman designation have demonstrated knowledge and experience in many areas of exterior work. Be sure to look for these credentials when selecting a siding contractor!